Get Instantly Approved
Because our approval process is QUICK!

Get Funded in a Day

Yes, you read that RIGHT!
Best Personal Loans for Bad Credit come with No Credit Check
At PaydayLoanTeller, we offer personal loans for bad credit with no credit check so that credit rating does not become a determinant for funding. Firstly, we realize that bad credit is not a choice, but an unfortunate situation. If your previous lender reports even a slight delay in repayment, that hunts you for the next 7 years in your credit reports. That itself shows how faulty the credit scores can be. That is why we take your income status to be the decider how much you can borrow, and what term suits you- so that you can take care of your personal finance while repairing your credit. We offer funds up to $1,000 and terms up to 3 months to people on the basis of their income level so that they get the best out of our personal loans online.
Personal Loans for Credit Scores Under 550
If you're a bad credit holder or have a credit score under 600 or 550, you may find it difficult to get funded by traditional lenders. A lot of your loan applications may already be denied and receiving funds for your emergency may seem impossible. However, since we don't conduct credit checks, that doesn't matter to us. All you need to get a personal loan with fair or bad credit, is have a stable income and provide us with minimal and basic documentation.
Online Personal Loans vs. Traditional Lenders
Traditional Lending:
When you choose to apply for a loan with a traditional lender, you must already know that you may have to wait for days to receive your money. Their lengthy approval procedures make it impossible for one to receive money fast enough to address their urgent situation without causing a delay. Apart from that, one has to take out time to visit them which includes travelling all the way to their outlet, waiting in long queues and more such time taking procedures. Their operational hours may clash with the borrower's work timings, making it even more difficult since he/she may end up losing out on an entire day's salary.
Online Loan Lenders:
When you want a short-term loan of a few hundred dollars, especially if you need to cater to an urgent matter and don't have time to waste, it is wise to apply for a personal loan with an online direct lender. Lenders like PaydayLoanTeller are firstly available online and 24/7 which means that you can apply at any time that suits you the most. We also don't conduct credit checks or ask for collateral which makes things faster. Also, our form takes just about 3 minutes to fill so you can now avoid standing in long queues to wait for your turn and paperwork/ faxing.


Get Personal Loans for Bad Credit!
We know that you apply for personal loans for bad credit only when your expenditure has gone beyond your budget. Sudden car breaking down, visiting a doctor, payment of small bills etc. demand immediate solutions. That is why our process is designed to give you cash access as fast as possible. In order to get an online personal loan with bad credit, you just have to complete one of the simplest application forms ever which takes a couple of minutes. Once the application is submitted, we review it in no time and give you an instant, guaranteed approval. An approval always means that you are a couple of hours (same day) away from cash- which will be directly deposited in your account. The repayments will also be done automatically to keep you worry-free.
Get Small Personal Loans for Bad Credit On the Same Day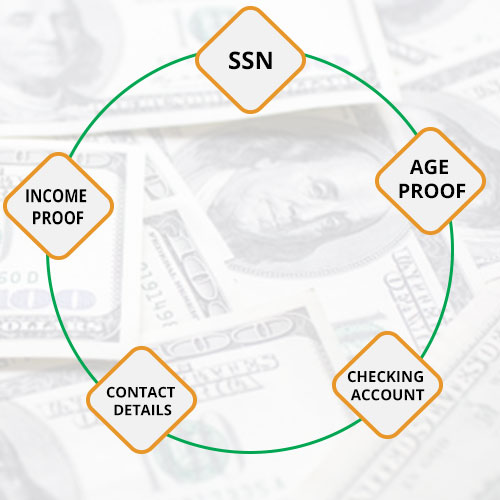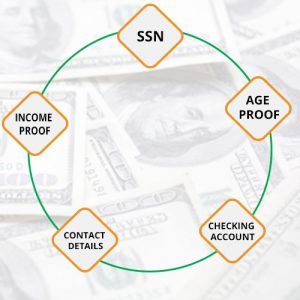 Availing a personal loan from a direct lender like PaydayLoanTeller not only means higher cash and longer terms but also lower interest rates and same day approvals! To qualify to secure such a loan you need to have the following-
A Social Security Number
Age proof (minimum 18)
A checking account
Contact details
Income proof
Stop asking people "where can I find personal loans near me", because you have found one of the best places to borrow one! Apply now to get the required funds today!
Get Personal Loans that are Safe to Apply for
When you choose to apply online, you may be wary to do so due to the innumerable scammers that are waiting to trap you. Even though things have gone digital these days, including lending and borrowing, it may still be risky to apply online due to the fear of being trapped by an illegitimate lender. However, not everyone has the time to go all the way to a store based lender, and online borrowing is just way easier and convenient. That's why, here we have a few ways listed down for you to figure out who is a legitimate lender and who isn't:
Transparency: It is important for your lender to be transparent in terms of their rates and requirements. Some lenders do not showcase their rates on their website and charge a bomb when it comes to repayment, which not every borrower can afford. This can lead to the borrower taking a loan from another lender just to repay the first and can in turn push him/her into a debt trap. Also, if the requirements aren't listed on the website, it may either be a fraudulent lender who's just there to make a few quick bucks by charging an advance fee without requiring any documents, or it may just waste the borrower's time since the lender may ask for documents after application and in the end not even approve the loan request.

Language: It is important to make a note of the language used on the website. Illegitimate lenders may not have the best looking websites with unprofessional language since they do not invest in their content. Legitimate lenders like have a proper business to take care of which is why their website will be well written, since they know that investing in content is important.
Fee: The fee must always be charged during repayment. Some lenders who charge an advance fee during application may just not approve your loan request. That's because they're there just to make some quick money and do not necessarily approve any request at all.